We'd love it if you'd consider choosing Dakota Dachshund Rescue as your Amazon Smile charity. Click the link above to get it set up!


DDR is currently also accepting donations through
PayPal: https://bit.ly/3oWmpBp
Venmo: search Dakota Dachshund Rescue
RoundUp App: search Dakota Dachshund Rescue
or
To donate by mail, send checks to:
DDR
7505 E MYSTIC DR
SIOUX FALLS, SD 57110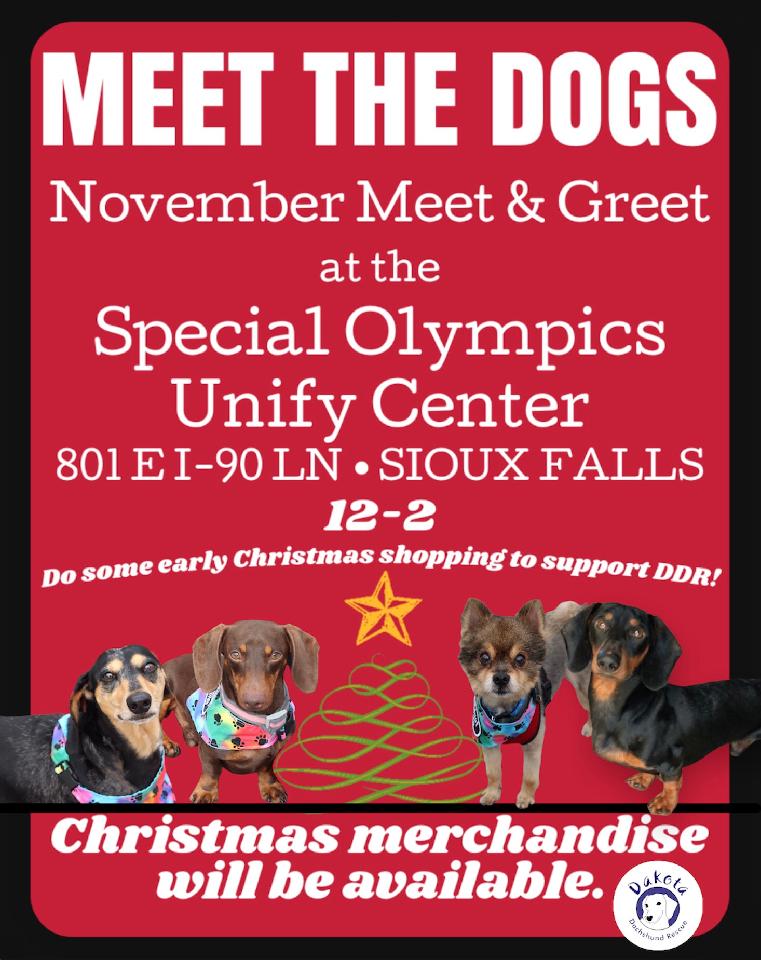 Come meet some adorable adoptable dachshunds
dachshund mixes and dachshund wannabees
looking for a furever home of their own.
Do some Christmas shopping also,
DDR embroidered fleece blankets,
handmade Christmas stockings
and other merchandise available.
Dakota Dachshund Rescue's
Halloweenie
Trunk or Treat was a huge success!
Thanks to all that came out to have some fun and support the pups in DDR!
Happy Halloweenie!


Another day of
Germanfest Wiener Dog Races!
in the books!
13th annual Grand Champions are happy and tired!


Got your dachshund runnin'
They were on the race track!
Grand Champion titles came some dachshunds way ;)

Thanks for coming out to support the pups in DDR
and to have some fun with your own pups!
Pictures are on Dakota Dachshund Rescue Facebook page







Woofstock 2021
Saturday August 28 2021
2:00-7:00 p.m.

Saturday July 24th 2021

Christmas in July
Christmas Bazaar and Meet and Greet!

SAVE THE DATE!
Saturday July 24th 11:00-3:00
Special Olympics Unify Center

It's Christmas in July and the dachshund lovers are having a fundraiser! Merchandise for sale as well as raffles and silent auction items. Lunch will be available.All proceeds support the pups in DDR.Come meet and support some adorable adoptable dachshunds, dachshund mixes and dachshund wannabees looking for their furever homes.
SIOUX NATION PET CLINIC 14TH ANNUAL WIENER DOG RACES



We salute and remember
all that lost their lives protecting our freedom.
We also remember all our loved ones
we have lost through the years
both human and canine.
So many that have touched our lives.