Monica's Web Page
Australian Shepherd / Poodle (Miniature) / Mixed (long coat) : : Female (not spayed) : : Adult : : Small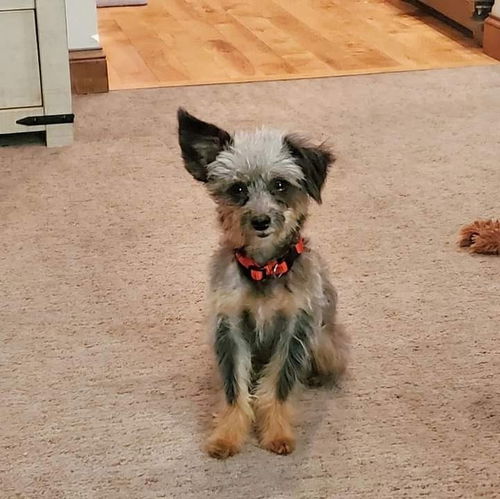 I would love you more than you can imagine.
Please adopt me!
Learn more about the Australian Shepherd.
Print an adoption flyer for Monica!
Contact Monica's Caretaker/Foster Directly: Doug or Diane
About Monica

Status: Available for Adoption (adoption info)
Adoption Fee: 350 plus sales tax
Species: Dog
Rescue ID: DDR22-166
General Color: Gray
Color: Gray and Black / Patches
Current Size: 6 Pounds
Current Age: 4 Years 11 Months (best estimate)
We are a foster home based rescue. Please fill out the online adoption application by clicking on Adoption Info under the Navigation bar on the left side of the page.


Hi I'm Monica. I am a recent breeder release girl. I am very scared and skittish. My foster mom has to keep a harness and leash attached to me so she can catch me.
A securely fenced yard is a must for me! I can climb any expen.
I am not used to being held yet, I am learning all the new things to try to become a house pet.
I am working on housetraining and trusting people.
Do you have the love and patience to work with me and teach me life as a house pet can be wonderful?
I am 4 yrs old , I weigh 6 pounds, my adoption fee is $350 plus sales tax $15.75= $365.75
Currently we do not know if Monica will be able to attend the event,
Dec Meet and Greet
on Saturday, December 10th, 2022.